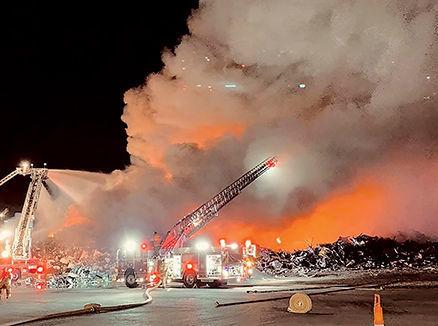 DELTA — As of Tuesday afternoon, crews were still on the scene of a fire at a Delta business.
At a press conference broadcast via social media, Delta Fire Chief Scott Smith said the fire department was dispatched at approximately 6 p.m. Monday for a report of a possible fire in the feedstock at MetalX, LLC, located at 7300 Ohio 109, Delta.
"The pile is referred to as the feedstock that goes into MetalX that they shred and recycle," Smith said, adding the initial response was multiple firetrucks and ladder trucks from four different communities. That response soon escalated.
"We were met with heavy fire," Smith said. "We had heavy fire throughout the pile and started attacking the fire and trying to maintain a safe area."
As of early Tuesday afternoon, Smith said 15-20 fire departments remained on scene with approximately 75 firefighters. At its strongest response, Smith said there more than 30 fire departments with more than 46 pieces of equipment and 146 firefighters.
"The fire is close to being under control, but it's still an active fire in that metal pile," Smith said.
According to a press release issued by Fulton County director of marketing and communications Toni Schindler, crews were maintaining a line and keeping the fire away from the buildings, and heavy machinery was being used to pull apart the piles of scrap and debris. Fire crews continue to work alongside MetalX company crews who are trained to use material handling equipment to help move or separate the material to minimize the effects of the fire.
One minor injury was reported to a firefighter, according to Smith, and they were treated. There were no injuries reported due to heat exhaustion, although with temperatures expected to rise Tuesday, Smith said they would be taking precautions of hydration and rotating crews out regularly.
Smith and MetalX General Manager John Brown said they are not aware of how the fire started, but Smith said it will be investigated with the assistance of the Ohio State Fire Marshal's Office. However, Smith said it does not appear to be suspicious in nature.
"When you have metal, when you have possible flammables from recycling, the risk of fire in this kind of operation is always there," Smith said. "Unfortunately in a pile that dense, once you get a fire in, it gets deep-seeded and it's hard to put out."
Brown said the fire developed in the northwest corner of the feedstock pile, which consists of cars and recycled appliances and furniture.
"Eighty percent is steel and other metals," he said. "The other 20 percent consists of nonmetals that can be combustible and that's what you saw mostly burning in the fire."
Delta Village Administrator Brad Peebles and Delta Mayor Dan Miller both stated the village's water supply was never comprised.
"From the onset of the incident early on, the village water system was the primary source of water for the attack on the fire," Peebles said. "Around two hours in, our system did became taxed."
Peebles said the village, in cooperation with the fire service, redirected the water efforts to tanker haulers to bring water to the scene. In addition, water was incorporated from the City of Wauseon through an established connection.
"At no time ... was our system comprised," Peebles said. "We always maintained adequate pressure and adequate supply to our residents.
"I'm very fortunate that the fire department was very cooperative in their efforts to minimize the village system during the operations," he added.
The village was under a boil advisory Monday evening until the water processes were stabilized. Village officials stated they would continue to provide testing for safe water quality. For any boil advisories issued, residents were advised to check the Village of Delta website, Village of Delta Facebook page and follow local media.
Multiple agencies and crews were on the scene including the Ohio Environmental Protection Agency (EPA), Fulton County Emergency Management Agency, Ohio State Fire Marshal and the Ohio Emergency Planning Agency.
The public is asked to avoid the area of Ohio 109 and Airport Highway where MetalX is located as both of these highways were shut down Monday into Tuesday.
According to Schindler, emergency officials also asked the public to be cautious and stay out of smoke and shelter in place when possible. The Ohio EPA is currently in the process of testing for air quality, while MetalX's environmental consultant was also on scene Tuesday to continue to conduct air quality testing. Ohio Department of Natural Resources and the federal EPA were also on their way to the scene for additional testing. As of the press conference Tuesday afternoon, Miller said results regarding the quality were not yet available.
The officials thanked the fire departments and firefighters for their efforts.
"We really appreciate the help of the community, the first responders that came out and helped us all (Monday) night," Brown said. "We know they're tired."